One of the top performing bank stocks throughout 2019 was Nicolet Bankshares, a regional bank holding company that few investors have heard of. Based out of Green Bay, Wisconsin, Nicolet Bankshares is in fact the fourth largest bank in the American state that is normally more famous for its cheese.
2019 was a strong year for the small bank, highlighted by multiple earnings upgrades and a June acquisition which was well received by investors. Investors who bought the bank at the start of the year are now holding an investment which outperformed the Dow Jones Industrial Average by a factor of two.
However, the stock is quite small with a market cap just shy of $700 million and volume is thinly traded. As such, it may not be suitable for investors looking to limit their exposure to major banks. Here is a summary of the top five bank stocks for you to watch.
Outperforming bank stocks you should keep an eye on.
ICICI Bank
Chances are you've never heard of ICICI Bank but you should as it is one of the best performing bank stocks with a 50 per cent return in 2019. India-based ICIC Bank has seen its valuation rise to nearly $100 billion in late 2019, mostly because it is well positioned to take advantage of the Indian domestic economy, which is among the fastest growing in the world.
Back in early April, the International Monetary Fund predicted the Indian economy would grow by 7.3 per cent this year. While economic growth projections consistently moved lower throughout the year, economists modelled a rebound in growth in 2020.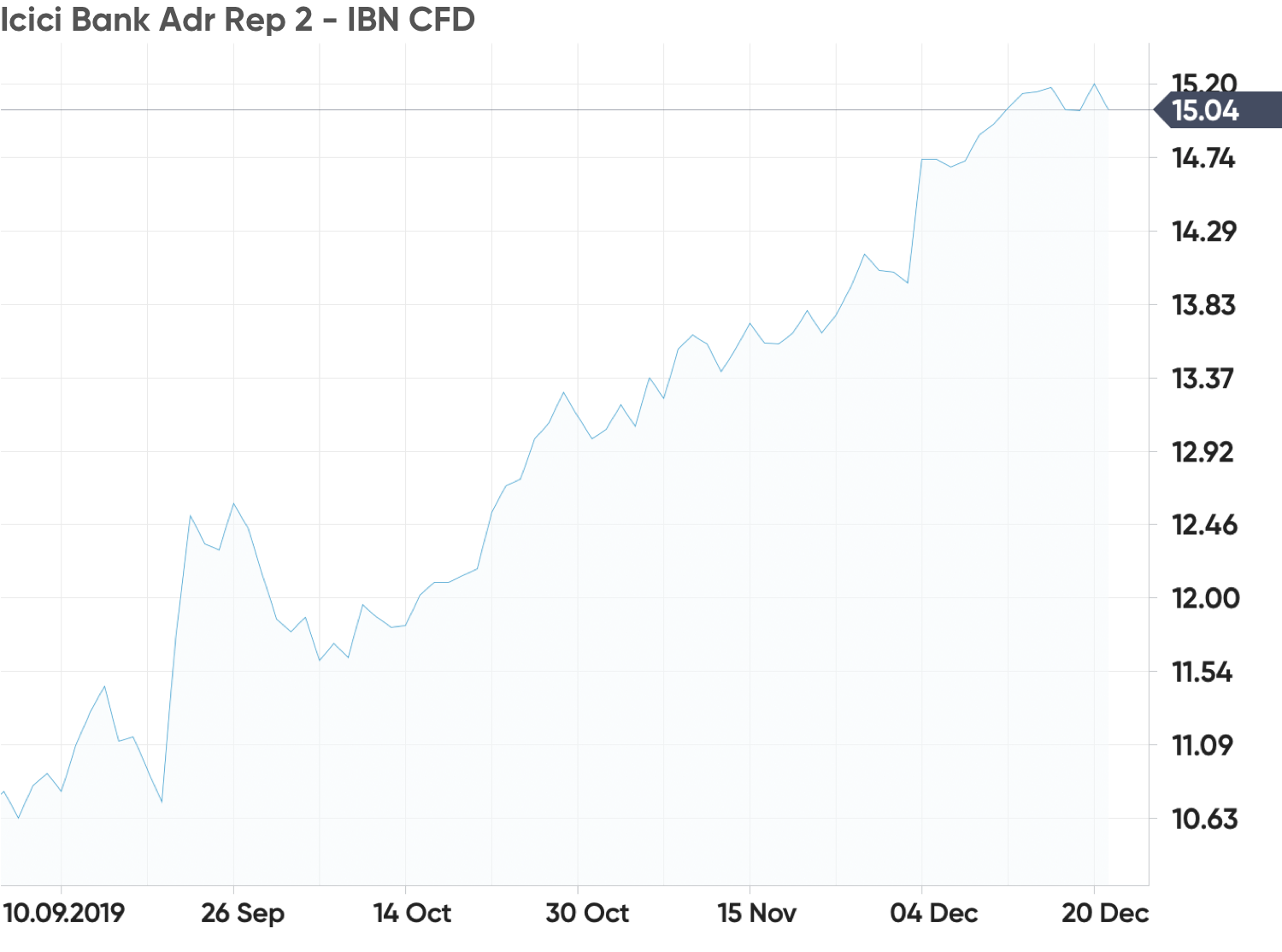 The large Indian bank also benefited from a nation-wide easing of corporate tax. The Indian government announced in late September the corporate tax rate will move lower from 30 per cent of profits to 22 per cent of profits.
Citigroup
U.S.-based Citigroup has seen its stock move higher by 47 per cent through 2019 – proof that investing in bank stocks pays off.
Citigroup's stock soared off the gate in 2019 and was up more than 20 per cent before the first month of the year came to an end. On January 14, Citigroup reported a solid earnings beat in its fourth quarter results.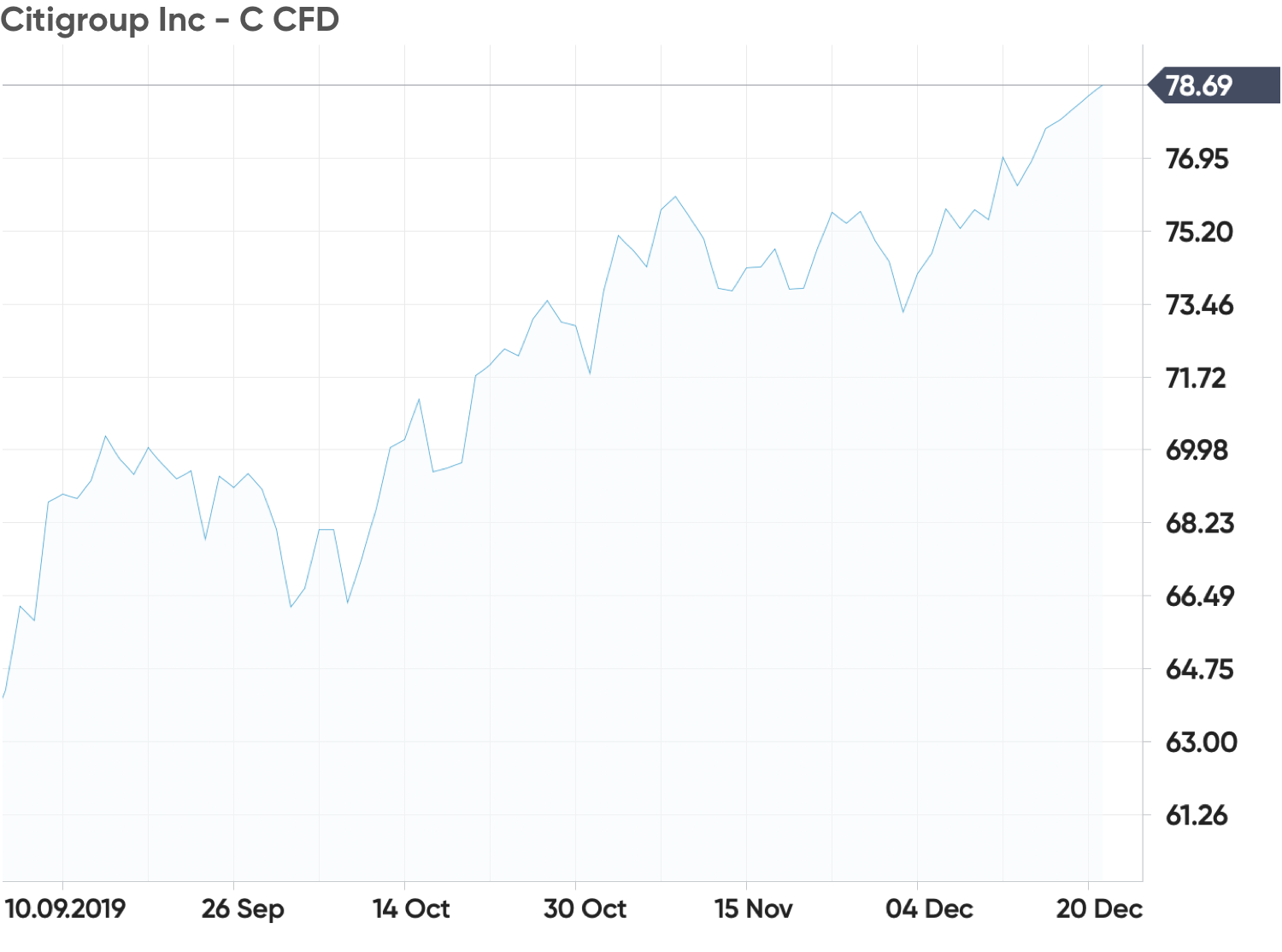 The momentum carried over for a few months but stalled when the three month yield curve traded above the 10-year curve for the first time in more than a decade. In layman terms, economists view this as a sign that a recession will become a reality in the coming months. This is a clear negative for bank stocks and Citigroup's stock trended mostly lower for a few months afterwards.
However, bank stocks rose when sentiment improved from encouraging macro-economic data, especially employment figures which reached multi-decade highs.
Citi's sentiment further improved in early September when CFO Mark Mason said during a presentation, he expects net income to rise by up to 4 per cent in the coming year. The stock received another boost a month later on October 15 when Citi reported a strong top-and-bottom-line beat in its third quarter results with signs of momentum continuing forward.
J.P. Morgan
J.P. Morgan is led by arguably the most respected CEO in the industry, Jamie Dimon. The CEO is perhaps best known for putting his money where his mouth is in early 2016. Dimon personally bought more than $25 million worth of his bank's stock in a clear testament he believes in the company's outlook at a time when the stock has fallen out of favour with investors. The investment paid off almost right away but 2019 was a great year for the executive and one of the best bank stocks to invest in for investors.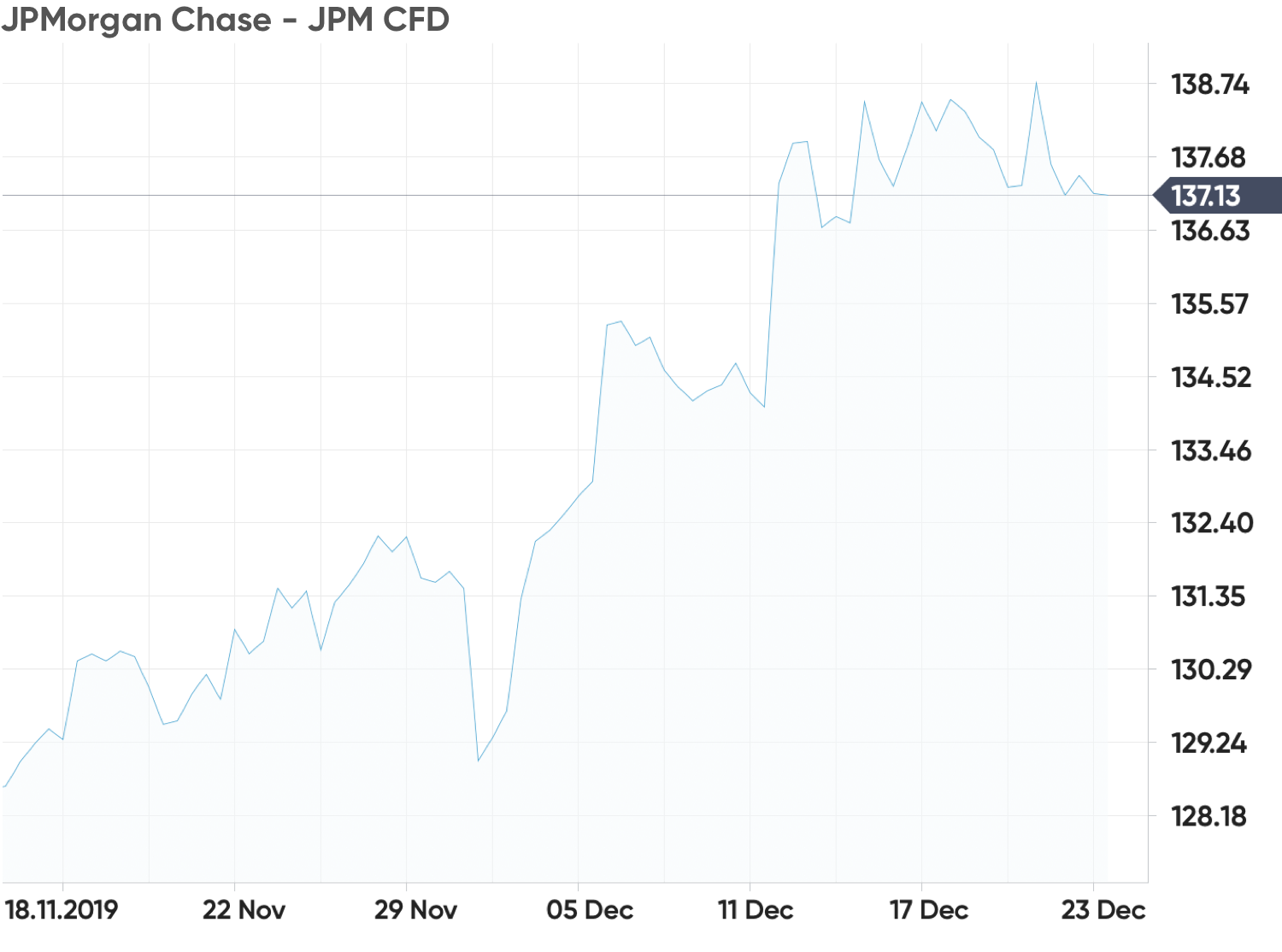 J.P. Morgan's stock gained more than 40 per cent in 2019 and one of the world's top investors offered it his seal of approval. Warren Buffett, the "Oracle of Omaha" said during a CNBC interview the stock should be worth "way more than three times tangible equity".
The math behind Buffett's notable call suggests a stock price north of $150 a share, or roughly 50 per cent upside. J.P. Morgan went on to make Buffett's case for him with three consecutive top-and-bottom-line earnings beats and encouraging commentary on its outlook.
Bank of America
Bank of America's stock gain in 2019 slightly lagged J.P. Morgan's and is up close to 40 per cent. The bank got a nod of approval from notable CNBC commentary Jim Cramer, who said that Bank of America made it clear in its earnings report it is the "Amazon" of banks.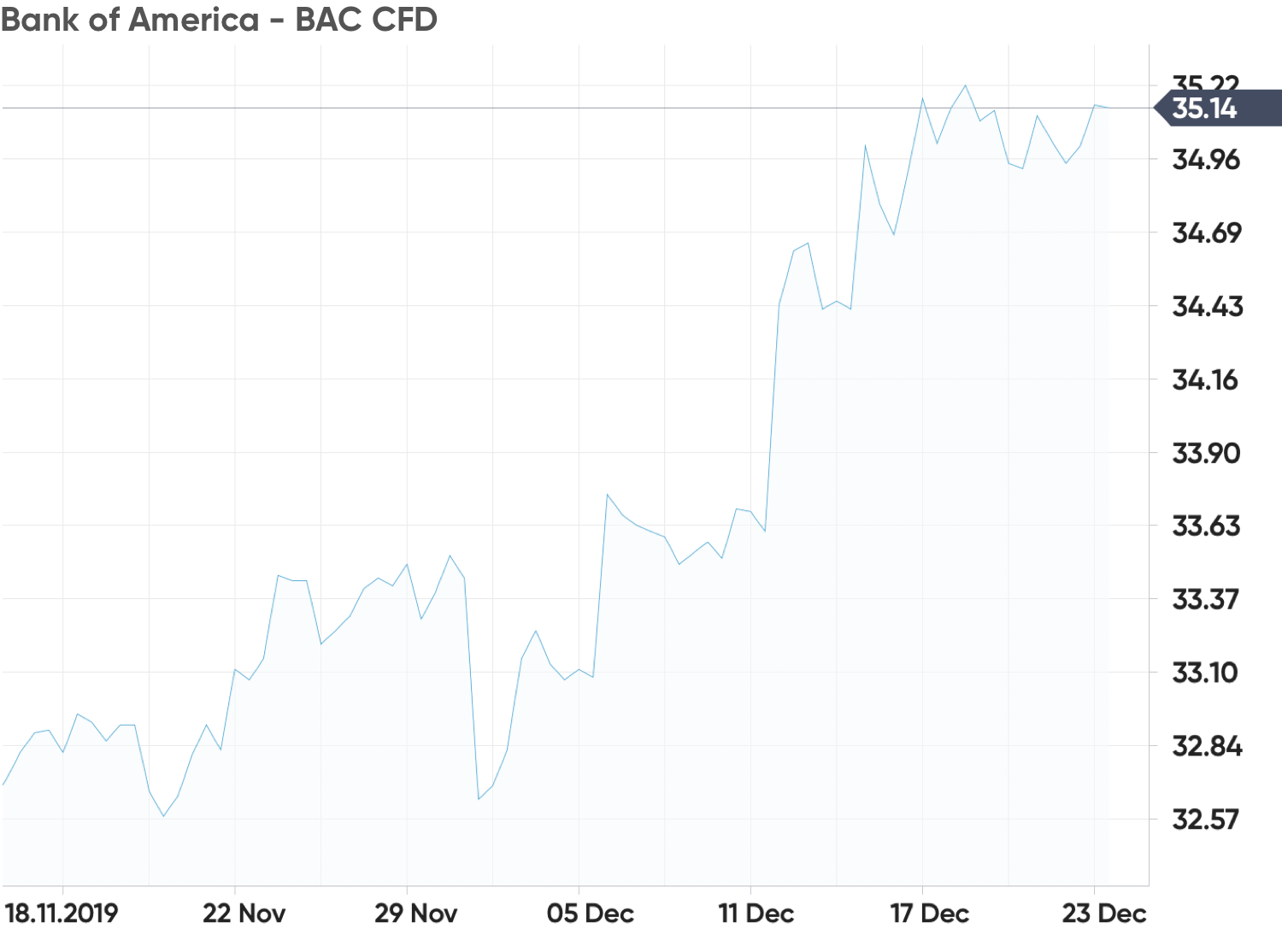 The commentator stated: "Bank of America, I want to make very clear, is the best – it is the best so far. It is rather extraordinary how much [money] the digitizing solution that they have [is making them]. You know what they are? They are Amazon but they make money. I mean, that's how good they have become. And I really think this is a quarter that [CEO] Brian Moynihan shined. They are just making so much money off the digital customer and the digital customer is happy."
Bank of America went on to get its second notable endorsement of the year in late July. Warren Buffett and his Berkshire Hathaway investment firm increased its stake in Bank of America to 950 million. This amounts to a 10.4 per cent stake of the entire company. Buffett does not keep tens of billions of dollars in one name unless he is ultra-confident on its outlook.
PNC Financial Services
PNC Financial Services is proof that investors do not need to turn to Wall Street banks for some of the best bank shares. Pittsburgh-based PNC Financial operates in 19 states and the District of Columbia but investors do not mind as the stock gained around 35 per cent in 2019.
PNC Financial's stock really started to show momentum in early April with a strong first quarter report. The company showed a 7 per cent increase in earnings per share at $2.61 while revenue rose more than 4 per cent to $4.286 billion.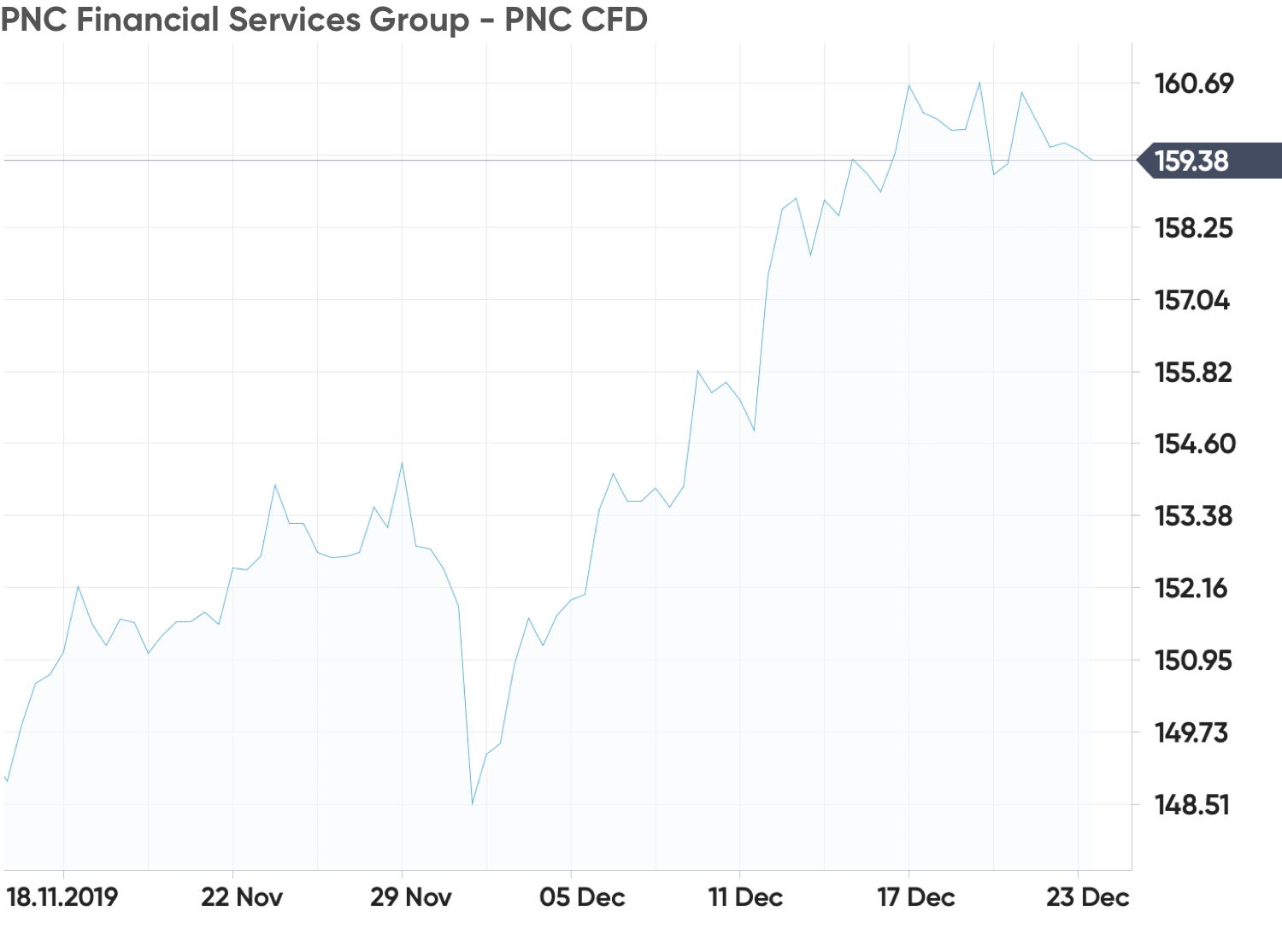 The stock was further supported by a late September announcement of a new strategic relationship with M Financial to service its wealth management clients. Here is how the company described its relationship in the press release.
"This relationship will allow us to provide our prospects and clients across the country with proprietary, cutting-edge offerings through M Member Firms with relationship experience.
In the end
Investors who have a list of bank stocks to watch should be made aware of how to invest in bank stocks through CFD. CFD, or a contract for difference, allows investors to trade all stocks, including bank stocks, on margin.
Stay tuned to the latest market news and earnings reports, which can drive the stock's price volatility. Track the bank stocks performance live and trade them with CFDs at Capital.com.