What is currency trading?
Currency trading takes place on the foreign exchange, or forex, market. The forex (abbreviated as FX) market is a global decentralised market for the trading of currency pairs around the clock. This market determines foreign exchange rates based on the forces of supply and demand. The FX market includes all aspects of buying, selling and exchanging currencies at current prices. It has the largest market trading volume in the world.
The foreign exchange markets works through financial institutions and operates on several levels. There are a broad spectrum of actors in the FX market, ranging from big investment banks all the way down to retail traders. While some foreign exchange is done for practical purposes (e.g. to facilitate travelling abroad), the vast majority of foreign exchange is undertaken by traders with the aim of making a profit.
The sheer volume of currency trading that occurs in a day can make FX markets extremely volatile – and it is this volatility that makes FX so appealing to traders. Volatility allows for higher profits, but also increases the risks.
What hours of the day can you trade currencies?
Forex market activities are conducted across various networks in several markets around the globe; there is no one centralised place to trade currency pairs. Consequently, the market is run by a network of banks working across four different time zones (namely London, New York, Sydney and Tokyo). This allows traders to trade 24 hours a day.
The market is open 24 hours a day from 17:00 (EST) on Sunday until 16:00 (EST) on Friday. The international scope of the FX markets means that there are always traders making and meeting demands for a particular currency. It is this freedom to trade that attracts many traders to the forex market.
Historically, the forex market has three peak trading sessions; this is known as the forex three session system. These sessions consist of the North American (New York), European (London) and Asian (Tokyo) sessions. The forex markets are most active when these financial centres are conducting business and their stock markets are open. Sydney stock market hours also affect the Asian trading session. When these sessions overlap there is particular movements in currency pairs that are affected by both open regions. For instance, when the European and American sessions overlap, currency pairs such as EUR/USD and GBP/USd are particularly volatile.
Spring-Summer peak sessions
Local time
BST (GMT +1)
EDT
Sydney open - 07:00
Sydney close - 16:00
22:00 - 07:00
17:00 - 02:00
Tokyo open - 09:00
Tokyo close - 18:00
01:00 - 10:00
20:00 - 05:00
London open - 08:00
London close - 16:30
08:00 - 16:30
03:00 - 11:30
New York open - 08:00
New York close - 17:00
13:00 - 10:00
08:00 - 17:00
August-Winter peak sessions
Local time
GMT
EST
Sydney open - 07:00
Sydney close - 16:00
20:00 - 05:00
15:00 - 00:00
Tokyo open - 09:00
Tokyo close - 18:00
00:00 - 09:00
19:00 - 04:00
London open - 08:00
London close - 16:30
08:00 - 16:30
03:00 - 11:30
New York open - 08:00
New York close - 17:00
13:00 - 22:00
08:00 - 17:00

How to trade forex CFDs
Forex trading does not take place on an exchange. Instead, it takes place directly between two parties – this is known as an over-the-counter (OTC) market. When trading the forex market there are two ways to trade that are arguably the most popular: either through a spot market or through CFDs.
Spot FX. A forex spot transactions, or FX spot, involves the agreement between two parties to buy one currency against selling another at an agreed price, within a short period of time. This is a direct exchange between two currencies. Such transactions involve cash. For instance, an FX spot on the GBP/USD pair involves one party buying the pound sterling in exchange for US dollars at the rate determined by the market.
CFDs on currency pairs. Alternatively, you can trade a contract for difference (CFD) on a currency pair. A CFD is a derivative product, where a broker agrees to pay the trader the difference in value of an underlying security, between the start and the end of the trade. CFDs can both be used to take long and short positions. For instance, if you believe the British pound, relative to the US dollar, will appreciate, you can open a long position on the GBP/USD currency pair. If you think it will depreciate you can open a short position. When trading currency CFDs you do not own the underlying currency.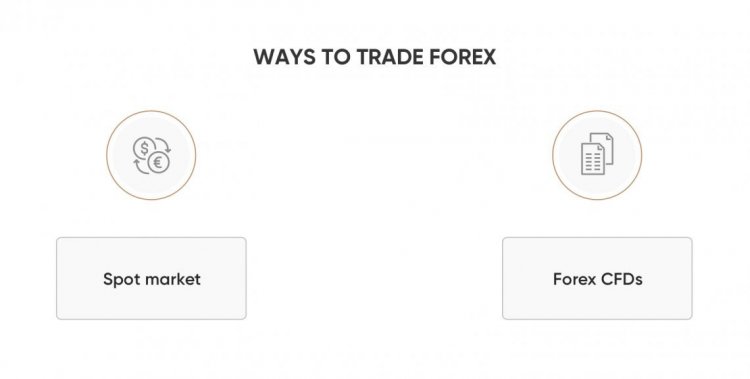 Advantages of trading forex CFDs
Leverage can make your wins go even further. You can trade CFDs on margin, meaning you can gain greater exposure for your initial capital. This is done by putting up only a fraction of the value of a trade and essentially borrowing the rest from your broker. This is known as leveraged trading and can amplify your wins as well as your risk.
Hedging. Hedging is the technique where someone opens a position to offset any potential loss that their current holdings may incur. The forex market is particularly volatile, which is what attracts a lot of traders, however, some may still want to employ hedging techniques to mitigate loss. Traders can take positions in markets that are negatively correlated, such as holding a long position on USD/CAD to hedge against falling oil prices.
Tax-efficiency. CFDs are exempt from stamp duty and losses can be offset against profits in other holdings that contribute to your capital gains tax liability. This is particularly useful when using CFDs to hegde.
Why trade CFDs on currency pairs with Capital.com?
Advanced AI technology at its core: A Facebook-like news feed provides users with personalised and unique content depending on their preferences. If a trader makes decisions based on biases, the innovative News Feed offers a range of materials to put him back on the right track. The neural network analyses in-app behaviour and recommends videos and articles to help polish your investment strategy.
Trading on margin: Providing trading on margin (30:1 for major currency pairs), Capital.com gives you access to the forex market with the help of CFDs.
Trading the difference: When trading CFDs on currency pairs you don't buy the underlying base currency itself. You instead speculate on the rise or fall of its value. CFD trading is no different from traditional trading in terms of its associated strategies. When trading CFDs you can go short or long, set stop and limit losses.
All-round trading analysis: The browser-based platform allows traders to shape their own market analysis and forecasts with sleek technical indicators. Capital.com provides live market updates and various chart formats, available on desktop, iOS, and Android. Study live currency pairs within the platform whilst simultaneously browse tailored news based on your trading behaviour.
Focus on safety: Captal.com puts a special emphasis on safety. Licensed by both the FCA and CySEC, it complies with all regulations and ensures that its clients' data security comes first. The company allows to withdraw money 24/7 and keeps traders' funds across segregated bank accounts.
Learn more about trading CFDs across all asset classes and discover forex trading tips here.
Read our other Trading Guides: